OOHPod named as a finalist for eComm Awards 2023
Ahead of the awards ceremony on Friday 22nd September, we sat down with our CEO and founder John Tuohy to find out what makes him such a great and deserving nominee for the "Outstanding Achievement Award".
Press
John, tell us a bit about your background and why you founded OOHPod.
I co-founded Nightline Logistics Group in 1992, which went on to become Ireland's largest independent courier, turning over €65m and employing 1250 at the time of its acquisition by UPS in 2017. In 2012 I launched Parcel Motel, which was Ireland's first smart parcel locker network.  
My latest venture, OOHPod, founded in late 2021 is another first, bringing an entirely agnostic smart parcel locker network to the island of Ireland. This means it can be used by any carrier and offers a truly sustainable first and last mile delivery solution to ecommerce transactions. My vision of consolidating first (sent and returned parcels) and last mile (deliveries) promises cost savings for both the carrier and consumer as well as reducing the carbon footprint of ecommerce traffic.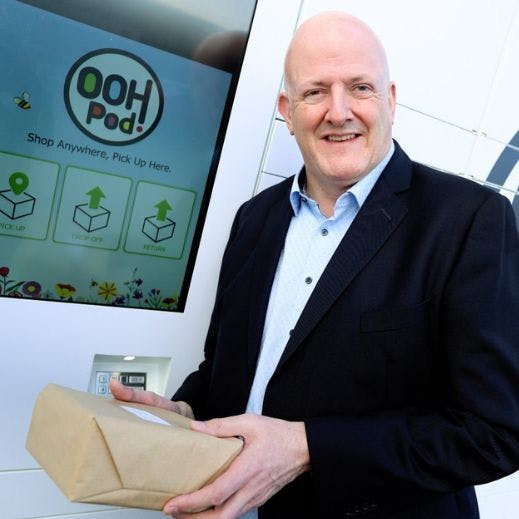 How have you found such great locations and brought such amazing partners on board so quickly?
When it comes to parcel locker networks, locations, and lots of them, are key. We have already agreed partnerships with two of the largest supermarket chains in the country, Lidl and Tesco. This enables us to expand rapidly into areas that are accessible to consumers and allows for the convenient combination of grocery shopping and parcel collection. Lidl and Tesco see it as an additional service to their customers and the surrounding community, as well as an important sustainability benefit in that parcel lockers reduce the amount of delivery vehicles in residential areas by up to 70%.
We are planning for a rapid expansion over the next 2-4 years, allowing us to offer a sustainable & cost effective alternative to home deliveries and collections.
For the first time, retailers can do their own local deliveries without having to go door to door, with little or no packaging. With the exponential growth of C2C (consumer to consumer), our lockers will allow consumers to buy/sell/swap seamlessly, in their local area.
Bricks and mortar retailers will no longer be restricted by their opening hours as they can use our lockers for 24/7 click and collect. There is really no limit to the ecommerce opportunities we foresee!
'We have already agreed partnerships with two of the largest supermarket chains in the country, Lidl and Tesco'
What challenges have you faced so far and how have you overcome them?
Funding was my first challenge, but along with an investment of my own, I garnered backing from a number of others who saw the potential in the venture. Starting a business in the middle of the Covid Pandemic also brought some challenges! The first batch of OOHPod lockers were delayed by over 3 months due to factory closures and shipping delays. Shipping costs too, soared to multiples of the original quotes.
 Finding location partners was next on the to do list. First Lidl and then Tesco provided us with the potential footprint required for a large locker network, and some independent retailers and shopping centres filled in the gaps. All we needed next was parcels and through a combination of consumers subscribing directly and integrated carriers (UPS and Collect Plus) the business is off to a flying start!
'OOHPod has the potential to change the face of eCommerce delivery into the future!'
Why does OOHPod deserve to win at the Irish eCommerce Awards 2023?
 Having served my time in the parcel delivery business, I could see that home delivery was becoming increasingly problematic, not to mention costly and unsustainable. During the pandemic carriers got into the habit of leaving things "safe" without getting a signature and this seems to have stuck, leading to what is referred to as "porch piracy" and "friendly fraud" where items are stolen from the "safe" place and recipients claim they did not get the item when in fact they did.
On any given day a residential area in Ireland can have up to 8 delivery vehicles operating at the same time. More and more consumers are demanding, faster, cheaper (mostly free) deliveries. The phenomenal growth of the second hand clothing market with companies such as Depop and Vinted, demands a cheap, convenient method for consumers to send parcels to each other. Carriers' costs are soaring and retailers are under pressure with delivery price increases.
OOHPod is the solution to all of the above and has the potential to change the face of eCommerce delivery into the future. Contrary to how Parcel Motel operated, OOHPod is open for all to use, carriers, retailers, consumers. Our vision is pioneering and promises a better user experience, lower carbon emissions and lower costs for everyone!
How do you feel about being nominated for this award?
I feel honoured and grateful to the judging panel to be nominated for such a prestigious award and to be considered in the same category as the other nominees, all of whom have achieved enormous success in their fields.
What does winning this award mean to you?
It would mean a great deal to me and the wider OOHPod team to win this award.  As a new startup business, I am proud of how much we have achieved in such a short period. We strongly believe that our parcel lockers will become a game changer for eCommerce deliveries, so winning this award would show that the judges share that vision.
The countdown to the big day is now on and John along with the team at OOHPod are looking forward to the awards ceremony which will be held on Friday 22nd September at the Round Room at The Mansion House in Dublin. You can keep an eye out on OOHPods socials to get involved and keep updated on the awards ceremony and who the lucky winner will be.
Wish us luck!
Further reading:
Irish eCommerce Awards 2023 Finalists