Using Your OOHPod Delivery Address

When you shop online ..
1. Enter your name (as it appears on your OOHPod account), your OOH ID, and the address of your chosen OOHPod location.
*Tip: Always double check to make sure the name on your parcel matches the name on your account!
2. ALWAYS include your name as it appears on your OOHPod account. For example, if you sign up with your maiden name, use the same name in your delivery address. If the name on your parcel does not match the name on your account, we cannot process your parcel.
3. ALWAYS include your OOH ID in your address.  This is the unique ID you received when you started your OOHPod subscription.  It begins with "OOH" and follows with an 8-digit number.  You can leave out the "OOH" part but NEVER forget to include the 8 digits as this is how we know the parcel is for you.
*Tip: You can copy your OOH ID and your address by clicking on the copy button in the 'Browse Our Locations' section on your dashboard home screen!
Pick Up


You'll get a text and an email when your parcel is ready to be picked up.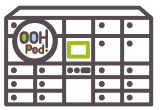 When you arrive at your locker click "Pick Up" on screen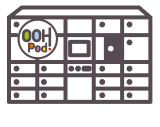 Enter your access code and a locker door will pop open


Grab your parcel and that's it! Easy.
What If...
I'm not available to pick up my parcel on the same day?
Don't worry. From the time you receive your text, we'll hold onto your parcel for 48 hours.
I didn't receive / deleted my PIN number?
The courier company who is delivering your parcel will be able to send / resend your PIN. If you're not sure what to do give us a shout on WhatsApp.
I close the door by mistake before I pick up my parcel?
If the door was closed before you managed to pick up your parcel simply click Re-Open on screen. Our on-screen display will show you which door will open so you won't be left looking.
My collection time expires?
We collect expired parcels every day.  If your time expires, you'll receive an SMS from your courier to let you know where you parcel is and how to collect it.
My parcel wasn't delivered to the locker?
There can be different reasons why your parcel was not delivered to a parcel locker:
The locker was full
Your parcel was too heavy or too large for delivery
In either case, you'll receive an SMS from your courier to let you know where your parcel is and how to collect it.


Drop Off


Stick a return label onto your parcel and take it to any OOHPod parcel locker.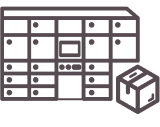 Scan the barcode on your label.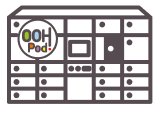 A locker door will ping open for you to put your parcel in.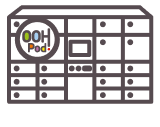 Close the locker door and you're done! It really is that simple.
What If...
The locker that opened is too small?
No problem! Simply close the locker door and press "Open Larger Door" on the screen. A larger locker door will then pop open.
My barcode won't scan?
If you have trouble scanning, you can simply manually type in the barcode on the screen.
I want to drop off more than one parcel?
That's no problem. Make sure to stick a unique label on each parcel and put each one into separate lockers. You'll need to do this one at a time.
I don't know if my parcel will fit in a locker?
Each locker has four different sized compartments.  The dimensions are: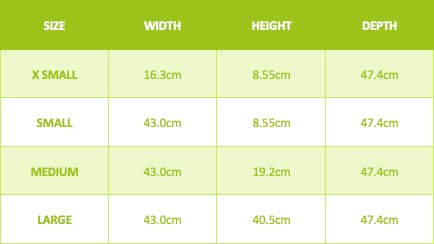 My parcel is too heavy?
With OOHPod you can send a parcel up to 15kg.