Are Refrigerated Lockers The Future of Click & Collect?
Refrigerated lockers open up new click & collect possibilities for grocery retailers.
Retail
It's undeniable that how we buy food has evolved since the pandemic pushed us to be more creative in our daily routines. COVID has nudged even the small corner shop retailer to find a way to iron out the creases in their home delivery and click and collect offers. The new demands from consumers do not seem to abate as restrictions lift. They have become accustomed to better choice and quality service – an experience they've now come to expect. The future of retail is giving the customer options that fit into their new "normal" way of life.
For everyone, in every walk of life, food shopping is a necessity, and the proliferation of brands makes it difficult to differentiate one from the other. To gain market share and encourage customer loyalty, retailers have begun to compete on customer experience rather than product selection or price. Retailers will increasingly rely on innovation to make shopping more of an experience whether that's in person or online while consumers will make their grocery retail choice based on convenience and other beneficial experiences brought about by innovation in this space. Many retailers are craving new ideas to help them stand out from the crowd. 
Refrigerated Lockers

New technology is creating opportunities for retailers to offer better experiences and compete in different ways. Refrigerated lockers are one of those emergent technologies that will be part of everyday life in the near future but for now, retailers with these lockers have first mover advantage. As digital natives move more into adulthood, buying houses and having children of their own, a digital solution for weekly grocery shopping is expected. But do retailers really want to get into a delivery / logistics business? Many would argue no and find refrigerated lockers to be the best hybrid solution for digital savvy, self-serve shoppers.
"In the new world where contactless and click and collect have become the norm, technology is helping retailers all over the world to keep up with these trends.  OOHPod will be the first smart locker solution in Ireland to bring refrigerated pods to Irish grocery retailers, helping them to provide an experience that customers have come to appreciate." - John Tuohy, CEO, OOHPod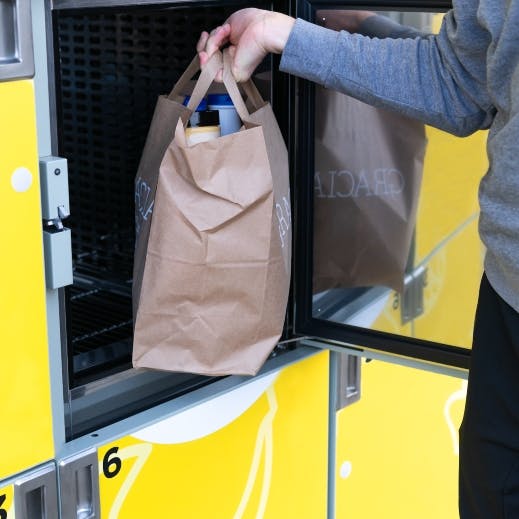 While refrigeration makes perfect sense for perishable items, food shopping is not their only use.  Pharmaceutical and medicinal products or flowers are other such examples that could use refrigeration for temporary or out of hours storage.

As a retailer one of the questions, you might battle with is when is the right time to engage with locker providers? Online food shopping is booming since the pandemic but still only in its infancy.  We believe online shopping with pick up and delivery services will grow over the next 5 years.  As technology supporting online grocery shopping matures, we expect the volume of online orders will grow and mature with it.  If you're a retailer looking to get ahead of the curve, right now is the best time to have a conversation with a locker provider.
Four benefits of refrigerated lockers for grocery retailers
Exceptional Customer Experience

Using refrigerated lockers make for a seamless process making your shopping experience both quicker and contact free. When a customer has ordered online and is picking up their order that has been stored in a locker the experience couldn't be easier. Go to the locker, enter your personal code, go to the open locker door, and collect your groceries. It really is as simple and as seamless as that. As workplaces begin to open, failed deliveries will become more common place, a costly and unnecessary inconvenience.  A refrigerated locker allows consumers to pick up their groceries at a time convenient to them – another great experience.


Customer Choice and Satisfaction

In a lot of cases a retailer will outsource the delivery to a third party and in such cases lose an element of control over the customer experience. It is important for retailers to ensure end customer satisfaction to reinforce strong relationships with their e-tailer consumers. With a refrigerated locker solution, customers can choose to shop with their closest or most convenient retailer, whether it is the one nearest to their home, office or on their commute. Offering customers access to a locker will deliver the level of service savvy consumers have come to expect. Not only do lockers offer customer choice, but they also bring a seamless experience to the fore using an electronic log of activity and freeing up retail employees.


Competitive Advantage

As stated previously, retailers with the foresight to identify refrigerated lockers as a potential key differentiator and choose to adopt this new technology will have first mover advantage in the Irish market. Having a seamless click and collect strategy for your ecommerce consumers will offer a competitive advantage and will help for forge stronger relationships with customers.


A Greener Solution

Promoting locker pick up as a greener solution will reduce the demand for home deliveries. Not only is this a more cost-effective solution for retailers it is better for the environment too. The reduction in carbon emissions as a direct result of locker promotion could form part of a large retailer's sustainable agenda.
If you would like to talk to us about a refrigerated locker for your business contact us on any of our social platforms or through hello@oohpod.com about becoming an OOHPod retailer.   OOHPod, your out of home delivery station, coming soon.