How to Use Your Northern Ireland Virtual Address
Since Brexit, shopping on many UK websites can be tricky. Some don't even ship to Ireland, and others incur hefty customs import fees on arrival. Read on for details on how Virtual Addresses work, along with our pick of some great UK Shopping sites.
19 Jan 2023 -
6 mins read
Shopping
In this article, we will explain how to use your OOHPod Northern Ireland Virtual Address and how UK returns work. We'll also give you our insider tips on some of the best UK sites that deliver to Northern Ireland!

For a list of our smart locker locations in Northern Ireland, head over to our Locations page, or find out more about the Services at Jonesborough on our dedicated ParcelShop page.

We all know that having a delivery address just over the border is SO handy! But why exactly do I need one?
It gives you access to all your favourite stores, such as Debenhams, EBay UK, John Lewis and TKMaxx
Items purchased from mainland UK to Northern Ireland are not subject to import taxes
Our ParcelShop in Jonesborough is only 50 minutes from Dublin Airport
You can save on hefty delivery costs by shipping to Northern Ireland instead of the Republic of Ireland
You can make savings by buying in GBP instead of EUR as some sites offer cheaper pricing in GBP
It's a great Parcel Motel alternative, but just remember .. we don't transfer items between lockers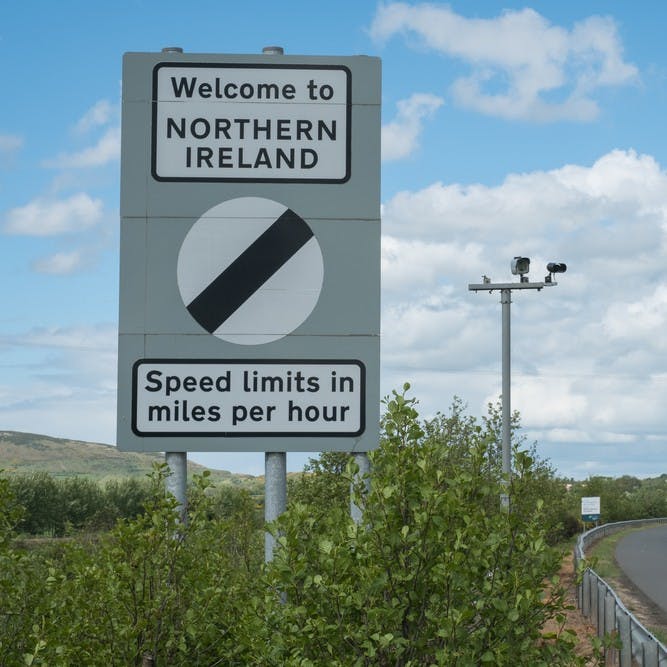 Using your address

It's very easy to use a virtual address. Once you've signed up to OOHPod, you'll receive your very own OOH ID®. This OOH ID, along with your name and the address of the locker in Northern Ireland, makes up your Virtual Address. When shopping online, enter your address in this format:

Your Name,
OOH ID,
OOHPod Locker,
1 Finegans Road,
Jonesborough,
BT35 8YY

You can use any parcel locker on our network, you can try out different locations depending on whether you are shopping in Northern Ireland or the Republic of Ireland. Just remember to include your name, your OOH ID and the correct address.
Collecting your item

When your parcel arrives at one of our Northern Ireland locations, you'll receive a text message (SMS) with 6 character Access Code.
You must travel to the locker your parcel was shipped to, we do not provide an onward forwarding service.

We will store your parcel for 48 hours. After this time has passed, you will have another usage added to your account, and you will receive a new access code.

When you arrive at the locker, choose 'Pick Up' on the screen and enter your access code. The locker door will pop open, and you can take out your parcel.

If you want to try on your new clothes, before you take them home, our Jonesborough store has a has a glitzy fitting room where you can do just that!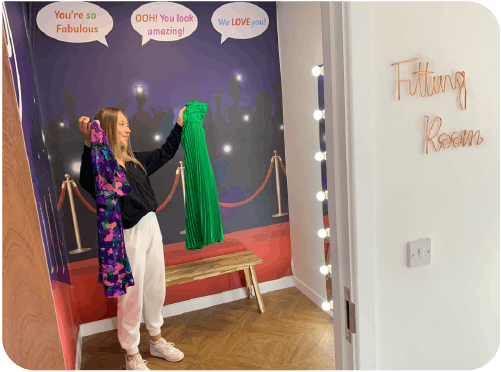 Sending & returning items

If you're not happy with a purchase, our staff will help you return your parcel in accordance with retailers options. If it's a Yodel or UPS  shipment, we can process your return on the spot in our store. If it's another carrier, we can help you find the best method to return your parcel without any hassle.

Sending parcels from Ireland to the UK can be costly and slow. Because the OOHPod Store is located in the UK, you can send parcels to mainland UK as a domestic journey.  We're a Collect+ and UPS agent which means you can send a fully tracked parcel for the UK with Yodel from as little as £2.91 or with UPS starting from £6.96.  And don't worry, we'll print the label in store for you.

Now you know how easy it all is, read on to discover some of the fantastic UK stores that deliver to Northern Ireland.
10 UK stores for shopping and gifting inspiration

We're sure there are many more great UK stores offering delivery and choice to Irish customers north and south of the border. Do you use any other sites regularly? Send us a message on our social channels or email us at hello@oohpod.com with any comments or ideas!