Prescription Click & Collect Solution
Improve efficiency and customer experience with our pharmacy "fast lane" service.
Pharmacy PickUp offers safe medicine storage with temperature monitoring and recording.
OOHPod's Smart Pharmacy lockers are secure, electronic lockers offering contactless collection to customers.
All lockers include built-in fully encrypted 4G wireless communication devices.
Your Problem
A busy pharmacy with queues building for pharmacy services at peak times. Your pharmacists are either occupied consulting with customers, or filling vital prescriptions. This leads to congestion in key store areas.
Our Solution
A self service, temperature controlled, Click & Collect solution. Your pharmacy team can fill compartments with prescriptions during quiet times. Customers can collect at their own convenience.
Automated Prescription Delivery
Brought to the Irish market by OOHPod, Pharmacy PickUp is your partner in automated prescription delivery.
Our unique Smart Pharmacy Lockers help pharmacies save money whilst offering the best user experience for customers.
Specially designed with pharmacies in mind, our lockers are tailor made to solve congestion and waiting times.

Improve Efficiency
Faster collection, reduced queuing

Enhance Experience
More time for important consultations

Temperature Controlled
In built monitoring and control

Safe & Secure
Secure anti theft, steel structure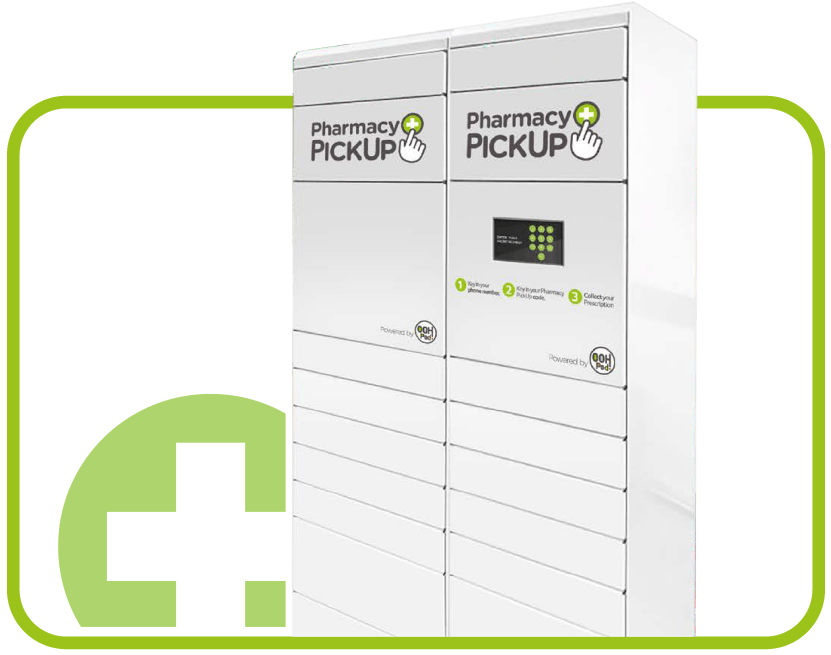 How it Works
OOHPod Pharmacy PickUp is perfect for pharmacies ready to offer a new way of delivering products to customers.
Pharmacy PickUp consists of one or several locker units and a web-based tool for monitoring the lockers.
Position your pharmacy lockers next to the pharmacy or at remote locations such as a supermarket or shopping centre.
Deliver items to the locker using your customers phone number. Instructions on how to collect the item are sent by SMS to the customer once the delivery is complete. Customers will collect their prescriptions using a PIN code.
The locker unit is equipped with alarm-based temperature surveillance.
Download Full Specification
Contact us for a demo of our Pharmacy PickUp solution